ING in France Joins the ENSAI Ecosystem  
ENSAI recently signed a partnership with ING in France, a pioneer and leader in online banking. The aim is to promote the recruitment of skilled data scientists to support the Dutch bank's innovation drive.
Through this partnership, the two institutions are committed to fostering exchanges between the academic and scientific community of the Grande Ecole of data science (students, professors, researchers, alumni, etc.) and ING's business teams.
"As a data-driven company, we need the know-how of data science. Today, the quality of ENSAI's teaching in statistics and data science is recognized as one of the best in France" explains Jamal Korchi, Head of Credit Risk at ING.
ING in France is part of the ING Group, which is now present in over 40 countries. It is the second largest savings bank in the world and a leader in banking/insurance and asset management. With over 13 million customers in Europe, ING in France is the pioneer and leader in online banking. While its core business naturally targets ENSAI's Risk Management program, the Dutch bank also wants to reach out to students in the data engineering program as well as those dedicated to customer knowledge: the quantitative marketing specialization in the engineering program and the brand new Mastère spécialisé ® degree, which opened in 2020.
"ING has a strong capacity for innovation in a sector where data analysis and science have become strategic functions. The company also has an international dimension that resonates with our own international ambitions. Bringing our students and researchers closer to ING's teams is therefore a natural fit," says Olivier Biau, director of ENSAI.
To celebrate this partnership, ING in France came up with an original operation that defends its values: a giant recruitment ad promoting team spirit on the school's soccer field.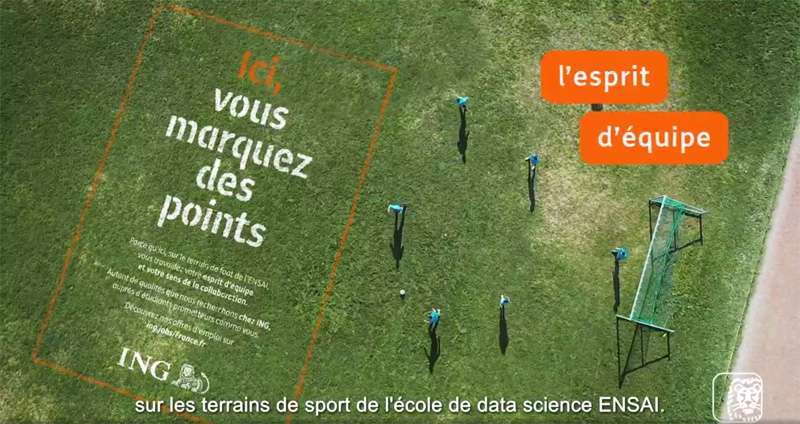 "The ultimate goal? Not to be offside in a world ruled by data… and to score points for the recruitment of future market players," stresses Raphaël Mashal, HR Business Partner at ING.