Governance
Direction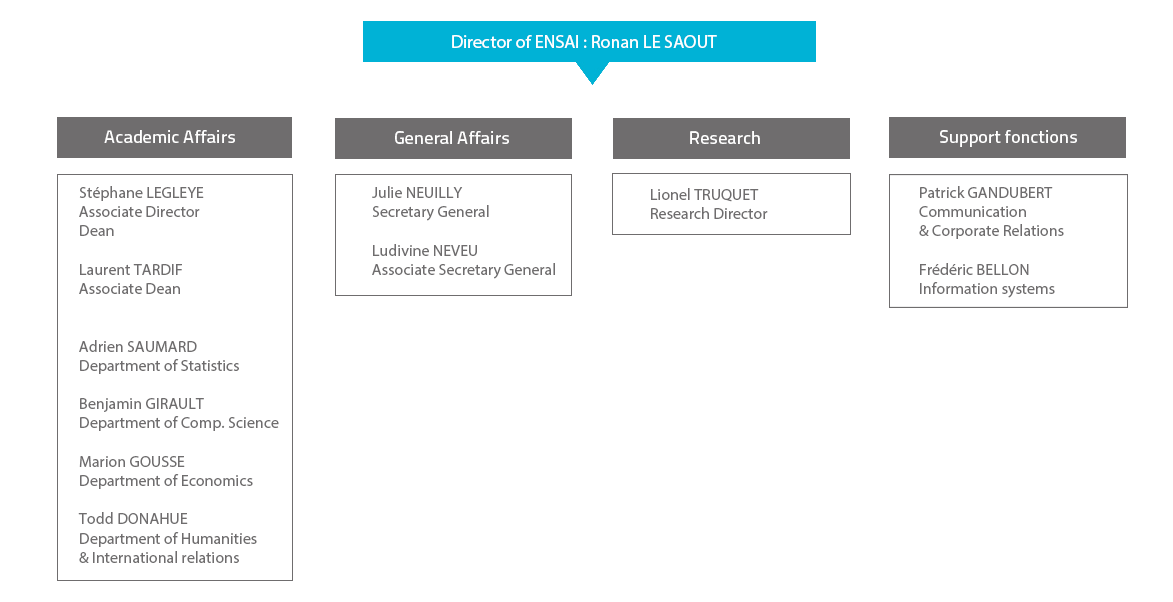 School Board
The School Board or Conseil d'école is a consultative body which is under the supervision of the Director of ENSAI. It is a place of discussion regarding the general academic orientation of the school, the school's administrative organization, admissions procedures, etc. 
Members of the School Board for 2021-2024
President:
Claire Lelarge, Professor at the Université de Paris Saclay
Members representing the academic and socio-economic world:
Catherine Duveau, Head of Data Science & Governance Department, Safran Aircraft Engines 
Cyril Régnier, Principal, AdWay Conseil
Rémi Sirolli, Global Head of Specialized Audits & Digital Transformation, Groupe Crédit Agricole
Aurélie Vanheuverzwyn, Executive Director – Data Science, Médiamétrie
Eric Gautier, Professor, Toulouse School of Economics
Patrick Gros, Head of Inria Rennes Bretagne Atlantique Centre
Pascal Mognol, President of Ecole normale supérieure de Rennes
Academic and Research Committee
The Academic and Research Committee or Comité d'Enseignement et de Recherche is a consultative body under the direct supervision of and led by the Director of ENSAI. Its role is to deal with academic matters. It gives opinions on: 
– the organization of teaching, programs, and research
– the curricula and academic sanctions 
Pedagogy Commission
Pedagogy Commissions or commissions des études at ENSAI bring together student delegates, teacher representatives, and the Associate Dean. These commissions are organized to identify pedagogical problems and propose solutions. They occur at the end of each semester.