Bancassurance: a surge of data benefiting ENSAI students
One-third of ENSAI graduates work in bancassurance*. This sector offers multiple and dynamic careers, most notably for ENSAI students in the Risk Management and Financial Engineering program.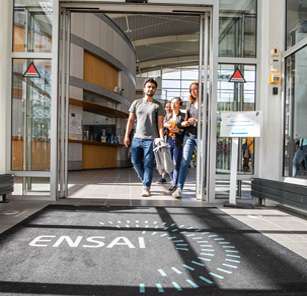 For the last twenty years banking risk management has become unavoidable. The financial crisis in 2007/2008 proved the need to better evaluate and measure the risks associated with different operations. To do that, banks need to work with experts who are familiar with both banking regulations and advanced quantitative techniques.
Asset management is another growing sector in which the construction of effective quantitative tools for the proper management of financial savings has become vital. Financial institutions therefore need financial engineers who are competent in performance creation and management.
An applied field of study

ENSAI's Risk Management and Financial Engineering program trains specialized engineers in quantitative finance, capable of innovating and proposing new analysis methods. In this program a large emphasis is given to simulating and studying concrete cases. In fact, this represents approximately one-third of the program. The main objective of this method is to enable students to sharpen their critical thinking skills and their creativity, two essential qualities in the ever more competitive financial industry.
After a Bachelor's degree in Mathematics and Economics at the University of Rennes 1, Audrey Thominot (ENSAI 2016) joined ENSAI as a third-year student in the Risk Management and Financial Engineering program. Today she's a Data Scientist at Euler Hermes and uses her Mathematics-IT-Economics background acquired during her engineering degree on a daily basis.  "On every project I manage all the analytical processing: from the construction of databases and indicators to the analysis of performance through the creation and production of statistical models."
For Clément Leroux (ENSAI 2017), a young Quantitative Analyst at LCL, "statistics and data science in bancassurance are of paramount importance. Our work has a direct impact on the business. At LCL, for example, I created a model that enables us to anticipate the consequences of a potential financial crisis on the bank. It's very demanding, requiring a great deal of analytical rigor, but it's also very rewarding."
Training Through Research Option
ENSAI offers its Risk Management and Financial Engineering students the possibility to prepare for a career as a researcher. In the Training Through Research Option (OFPR in French), class schedules at ENSAI are adjusted so that students can take classes for a Master's degree in Finance at l'IGR (University of Rennes 1), specializing in Studies and Research in Finance.
*Source : enquête insertion 2019
Keywords
Investment strategy / Credit risk / Market risk /
Extreme risks / Liquidity management / Scoring / Finance / Quantitative research/ Regulation / Compliance
Careers
Data Scientist / Quantitative Risk Analyst / Quantitative Portfolio Manager
Discover more about the Risk Management and Financial Engineering program