From ENSAE Dakar to Ernst & Young
A former student of ENSAI Darkar and a 2017 graduate of ENSAI, Ababacar Y. Ba reflects on his educational background and the choices he made that led him to his job as a Data Scientists Consultant at Ernst &Young. Interview.

Ababacar, what incited you to join ENSAI after your studies at ENSAE Dakar?

Ababacar Y. Ba: During my time at ENSAE Dakar, I really appreciated my first computer sciences courses. I was looking for more complementary training that would appeal to me and I came across a poster at my school that presented ENSAI. While browsing the ENSAI website, I found information about the course programs and the high level of computer science related content offered corresponded to what I was looking for: a mix of skills in statistics and IT. So it was quite naturally that I chose ENSAI at the end of my studies.
You did your 2nd and 3rd year internships at Total and L'Oréal, two major international companies; was that the objective?

A.Y.B.: During my 2nd year, I wanted at all costs to discover the professional world in a multinational company, first because I love diversity and also because it would be a good career start, especially on my résumé. I applied to several large companies by using notably the school's files on previous internships done by ENSAI students. Fortunately, my résumé was sent to the person who would become my future internship advisor. He called me to directly offer me an internship, which incidentally I really appreciated. That experience motivated me to return to a multinational companies for my 3rd year internship and I succeeded in finding an internship, just as interesting, at L'Oréal.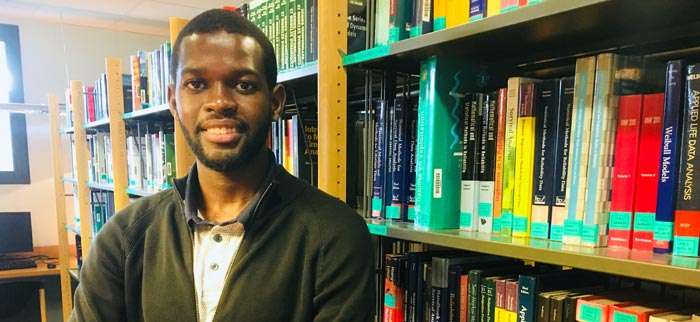 During your education at ENSAI, you also simultaneously took an online module offered at Johns Hopkins University in Data Science. Is this something you would advise to others?  
A.Y.B.: I strongly recommend it. Not necessarily this specific module, but all online courses (MOOCs) that could help us to consolidate what we learn at school. In reality, it's rare to learning everything about a subject matter, especially for technical parts, applications. And it's up to students to go find additional knowledge that will differentiate them from their peers. Having online courses helped my technical skills and also made finding an internship a lot easier because more and more companies are interested in these types of online training programs.
You have just started your career as a Data Scientist Consultant in a large international firm : what are your first impressions ?
A.Y.B.: The work of a consultant is very impressive. Besides being good technically, consultants have to also quickly adapt and explain in non-technical language the solutions they are proposing [to clients]. So it's a really formative profession, even more so when you are in a large firm that consults with other large companies.
What advice would you give to an ENSAI Dakar student, tempted to pursue their studies in Europe?

A.Y.B.: I would tell her or him to go the furthest possible in their objectives because there aren't really any limits and accessible educational possibilities are numerous. With work, everything is possible and the foundation has already been acquired at ENSAE Dakar. Former students are generally available, don't hesitate to ask them for help in order to orientate yourself.
What memory do you have of your time at ENSAI ?

A.Y.B.: One of a school where I met people from diverse backgrounds. Where I learned a lot of theory and practiced doing a lot of statistics. It's also a school with a very open and friendly faculty and staff who are always ready to help.
What will Ababacar Y. Ba be doing 10 years from now?
A.Y.B.: He might be an entrepreneur in Dakar, who has one foot in data science, as a consultant. I like the consultant profession and it isn't as developed in Senegal as it is in France. It would be worthwhile to get involved in that.