Steven Golovkine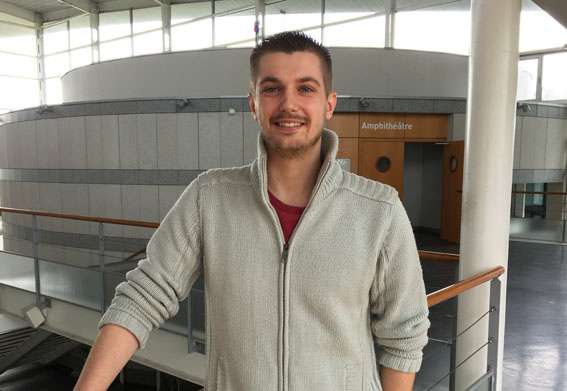 The Master in Statistics for Smart Data at ENSAI opens up the possibility to pursue a PhD. Steven Golovkine chose to do an applied PhD (CIFRE) with Groupe Renault on the topic of autonomous vehicles.

He's only been a PhD student for a few weeks, but Steven already feels a home in his new environment: "New technologies are everywhere in the automotive industry and I'm really lucky to be working on a strategic area that will impact our daily life. It's really motivating!" At Groupe Renault, he is working on methods of classification to analyze data from autonomous vehicles. The objective? "Make it possible for a vehicle to make good decisions based on the data from its sensors, for example when entering the highway."
In order to do that, the data has to be quickly and readily available to the vehicle, which means classification is essential for decision-making. The subject combines pure statistical methods, Artificial Intelligence, and massive amounts of data, "an excellent summary of what the Smart Data Master's degree at ENSAI teaches its students", according to the young researcher. 

After studying Mathematics and Physics in one of France's intense preparatory courses at the Lycée Georges Clémenceau in Reims, Steven became a Statistical Engineering student at ENSAI in 2014. At the end of his second year, after having completed a semester abroad at Aarhus University (Denmark) and a two-month internship at Colorado State University (USA), he decided to pursue the Master of Science in Big Data (today known as Master of Science in Statistics for Smart Data) to gain insight and training in dealing with massive amounts of data. This know-how was put to use during his end-of-studies internship at the Renault Technocentre in Guyancourt. "For six months, I worked on methods for big data analysis to validate driver assistance systems. I found the topic fascinating, which led me to pursue a PhD on autonomous vehicles."
With his Master's degree in hand, Steven returned to the Renault Technocentre last January, this time for three years. He will split his time between the center in Guyancourt and the CREST-ENSAI Research Laboratory, working with his thesis advisor Valentin Patilea (ENSAI) and co-advisor Nicolas Klutchnikoff (University of Rennes 2 – IRMAR Research Laboratory). "As a PhD student, I will expand my scientific knowledge while seeing how my research is being applied, which is a great way to start my career."
ENSAI is jointly accredited to award the PhD via the Mathematics and Information and Communication Technology Doctoral School (MathSTIC). For more information on CIFRE PhDs: http://www.anrt.asso.fr
All testimonials